SUSTAINABILITY WITH ARTIFICIAL INTELLIGENCE
Path to Net Zero future
In today's sustainability-driven era, process industries are dedicated to reducing their environmental impact and achieving ESG targets. Unlike other AI providers, our advanced AI solution stands out by comprehending the intricate process logic, allowing for closer-to-optimum operation with enhanced control. This distinct capability unlocks unparalleled opportunities to reach and exceed your ESG goals. Embrace the transformative power of SentianAI and unleash the full potential of your sustainable ambitions. While significant CO2 reductions often require large cap ex investments that take long to implement our AI product is fast to install and offer significant reductions.
Drive Sustainable Transformation
Up to 20% energy reduction
Increased production efficiency reduces energy consumed per tonne reducing CO2 per tonne
Chemical Reduction
Example, Up to 8% reduced chemicals used in bleaching
Water Reduction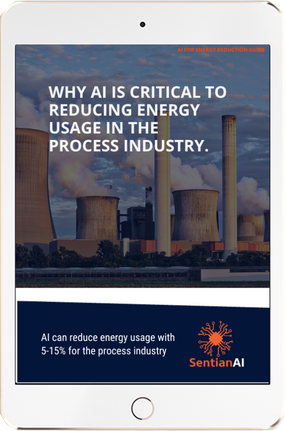 AI can help reduce energy consumption across various stages of the industrial processes
Our AI-driven solution can identify inefficiencies, optimize equipment performance, and
implement intelligent energy management strategies, leading to cost reductions and
environmental sustainability. Download our free ebook and embark on a journey towards
energy-efficient and sustainable industrial operations.
Transform Your Plant Operations with our AI Assistant by Your Side