ADVANCED AI POWERED PROCESS OPTIMIZATION
SentianController is a cloud-based AI Supervisory Control Software. It is designed with advanced AI algorithms that continuously learns and adapts to your plants dynamic processes, providing continuous improvement and optimization over time.
SentianController is step change from the basic AI and traditional process controls as it provides: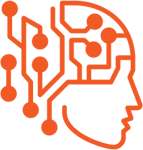 Continuous Improvement
Continuously learns and adapts to changing circumstances, providing continuous improvement and optimization over time.

Non Linear Models
Utilizes operational data to build and maintain a nonlinear dynamics model of the process for control optimization.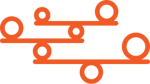 Stable Processes
Provides greater stability, reduced steady-state errors, and improved robustness. Compared to a traditional multi loop PID control system, Sentian Controller can improve rocess stability upto 80%.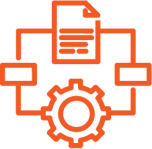 What-if Exploration
Suggests recommendations for setpoints and allows for "what-if" scenario exploration with goal adjustments.
Goal oriented controls

Higher level of automation, freeing operators to focus on more important tasks

Overview of all critical parameters

Fast and accurate reach to the desired setpoint

Model for solving constrained optimization problems results in running set-points closer to actual optimum or closer to performance boundaries for increased throughput

Inferred and continuously updated process dynamics model, for the best representation of reality

Easy to customize interface for operators and engineers
Explore SentianController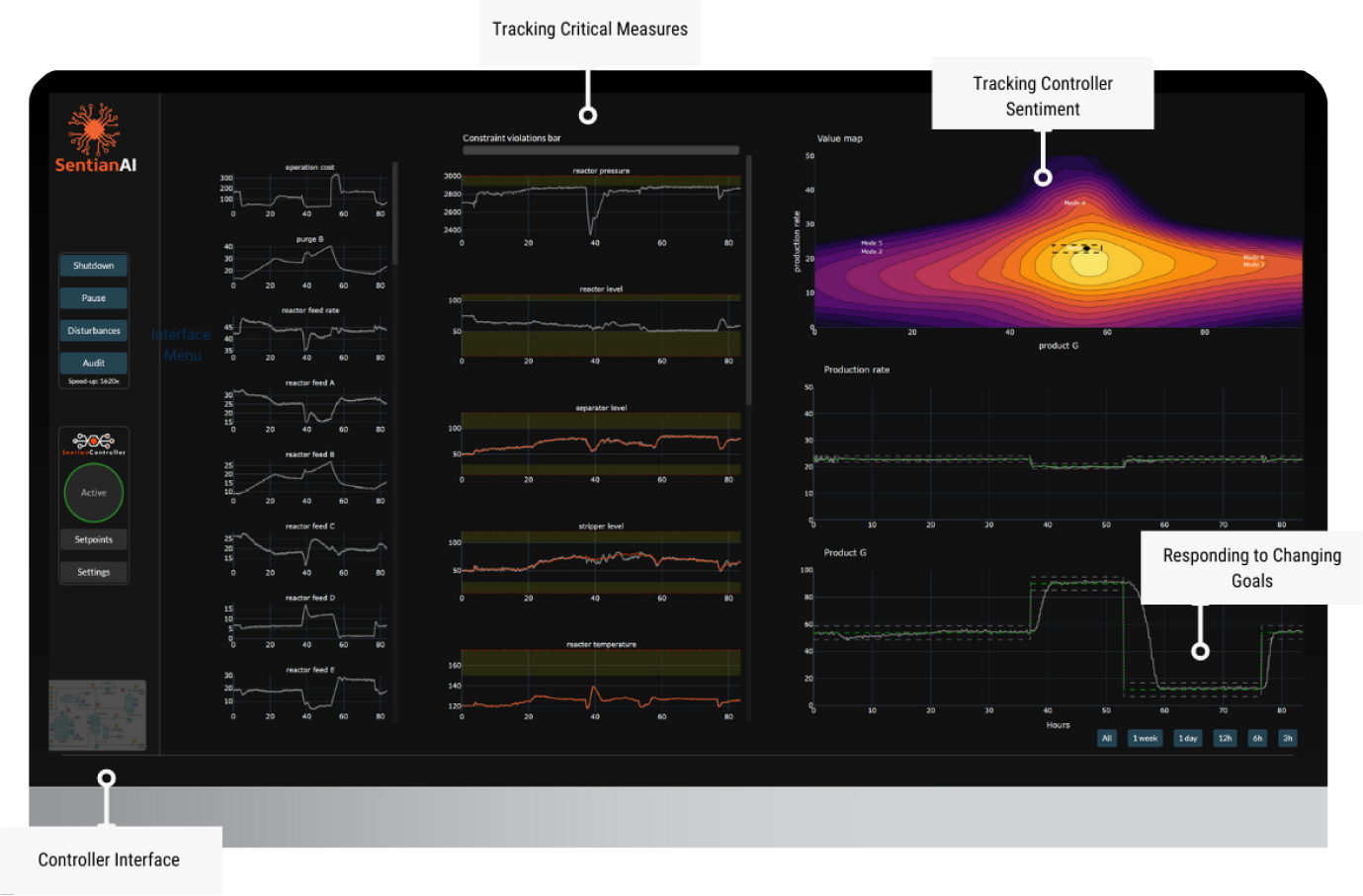 Where SentianController fits in your control system hierarchy?
SentianController is a supervisory control system. A software only solution that integrates to historians and DCS/SCADA or the equivalent. It uses data from the existing control systems and, where relevant, additional sensors like online analyzers.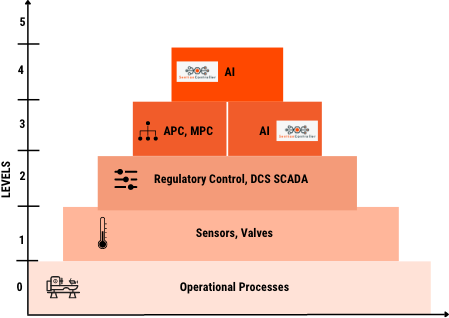 Our Commitment to Security
At SentianAI, security is a top priority. We continuously invest in robust security measures to protect your data and provide you with peace of mind as you leverage the power of AI in your operations.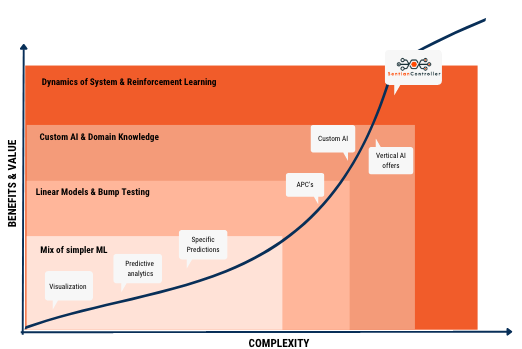 Going Beyond Simpler AI
Our advanced AI solution revolutionizes process control by leveraging data and mathematics to create dynamic models. Unlike simpler models, we provide upgraded predictions, overcome correlation challenges, and enable precise control strategies for non-linear processes.
Experience the power of SentianController for optimal process efficiency and stability.
OPTIMIZE YOUR PLANT WITH OUR AI ASSISTANT
Request a demo today to see how our AI can be a trusted assistant in your plants operations